This article was written by Lavertus. Please do not add to it without the writer's permission.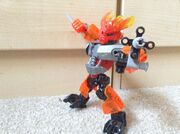 Flamshot is a Gunslinger under the command of Gunster.
Background
Flamshot was a fire villager who decided to betray his allies and become one of Gunster's Gunslingers. He uses the four shot revolver hand replacement design for his gun.
Notes